I'm going to pray that the Holy Spirit opens the hearts and minds of everyone who reads this today and who prayerfully considers the sinister implications that stem from this piece.

I'm also going to pray
Psalm 91
for the Lord's protection over us as well because I'll admit that I'm feeling a lot like that stereotypical character in those conspiracy films who inadvertently stumbles upon some truth so shocking, so indicting that he fears for his own safety because of what he knows.

I don't mean to sound melodramatic and I don't think such a statement is hyperbole either, but please pray for me, my family, and this ministry, and that the good Lord uses this to expose the evil scheme of Satan, and that He forces people worldwide to their knees in prayer for deliverance from what's coming. If this is what I think it is -- a undeniable bombshell regarding what's really going on in Ukraine -- then we may finally see God's hand of protection removed to allow for our entrance into the Tribulation at any moment now.

Psalm 112:7 (KJV) He shall not be afraid of evil tidings: his heart is fixed, trusting in the LORD.

So, it seems as though the Modus Operandi for the governments of the world in regards to the current health crisis unfolding in Ukraine is to maintain a complete media blackout -- even if their own various government websites acknowledge such a reality.

Many of us have speculated why they would carry out such a synchronized approach when their entire M.O. to date has been the complete opposite. There's no question that The-Powers-That-Be, as constituted by the various governments of the world, have worked in a concerted effort to promote nothing but anxiety, fear, and panic over the H1N1/Swine Flu pandemic.

So why the sudden change? I think we may have found the answer, and it's not pretty.

Today, I just discovered a tacit admission by the United States government that proves they know what's going on over there and that we're being deliberately kept in the dark. That story, in and of itself, is a big one, but it's another piece to this pandemic puzzle that is putting things in a much clearer focus.

Bottom line? I believe I have found a tacit admission that what's taking place in the Ukraine is a global conspiracy perpetrated by the multi-billion dollar Pharmaceutical Industry and those at the top of that structure.

First, we turn to the Bible to support such an absurd sounding claim before viewing the evidence:

Revelation 9:21 (KJV) Neither repented they of their murders, nor of their sorceries, nor of their fornication, nor of their thefts.

Most translations have translated the Greek pharmakeion / pharmakeia as "sorceries" (see KJV, ASV, NAS, NAU, RSV, NRS, NKJ, WEB, DRA, RWB, YLT). The New King James Version has a marginal reference which says that in the Alexandrian and Majority Texts the Greek word in Revelation 9:21 is pharmakon, which literally refers to "drugs".

Yet, the Greek word in the Textus Receptus underlying the KJV at Revelation 9:21 is pharmakeia, which can literally refer to either the "use of drugs", or to "poisoning", or to "druggery".

It should be noted that the reference in Revelation 9:21 is not to a helpful or medicinal use of drugs such as in Paul's instruction to Timothy to use a little wine for its medicinal properties (

1 Timothy 5:23

). The pharmakeia of Revelation 9:21 is an end-time druggery, which could refer to everything from over-prescribed antidepressants to forced vaccines (like the H1N1/Swine Flu vaccine), or something entirely new and unexpected that is soon to be introduced to the world (like whatever was sprayed by planes over the Ukraine?). Pneumonic Plague -- the "mystery illness" sweeping that nation perhaps?

In any event, while performing a search for the latest info on YouTube I came across a video clip from
a joint U.S.-Ukranian economic forum
that was held today in Washington, DC sponsored by the
U.S.-Ukranian Business Council (USUBC)
.




The USUBC is a private, non-profit trade association representing the interests of U.S. businesses active in Ukraine. Based in Washington, DC, the Council promotes U.S. and Ukrainian commercial ties through regular interactions with U.S. and Ukrainian business and government leaders, and through the analysis and advocacy of key policy issues impacting U.S. businesses and the future of U.S.-Ukrainian relations. For more information about the Council, see
Mission
.

Surely, mention of the sorry state of affairs in Ukraine would be mentioned briefly even during an unrelated summit like this one. At least, that was my initial thought. However, no word was spoken of the pandemic -- in front of cameras.

Yet, a quick visit to the organization's website CONFIRMED that the U.S. is not only aware of the situation, but that they're actively engaged in helping Ukraine handle the crisis!

First mention of the reality on the ground over there was posted to the website on November 3rd, or a full 1-2 weeks after the outbreak. Since then, there have been several updates posted and you can see them for yourself here:


CRITICAL MEDICAL SUPPLIES NEEDED IN UKRAINE
U.S.-UKRAINE BUSINESS COUNCIL URGES PRESIDENT YUSHCHENKO TO VETO NEW LAW INTRODUCING MORATORIUM ON INCREASE OF PRICES OF MEDICINE
"AEROSVIT" UKRAINIAN AIRLINES WILL DELIVER ONE MILLION FLU MASKS AND 12,500 BOTTLES OF DISINFECTING HAND LIQUID FROM UNITED STATES TO KYIV, UKRAINE ON SATURDAY, NOV 7
U.S.-UKRAINE COOPERATION UNDERWAY TO COMBAT H1N1 INFLUENZA


What's unique about each communique though is that the Ukrainian leadership openly pleas for help from the U.S. in these letters that are published there (demonstrating how dire things are and CONFIRMING what we've been reporting for some time now). Most importantly, we also see the official U.S. response (one from the U.S. Embassy even) to their requests for help and boy does it also go a long way in CONFIRMING everthing we've been asserting!

Here was the list of items that the Ukranian Ministry of Public Health first asked for:


> 15.3 million doses of vaccine against the pandemic flu (presumably H1N1)
> Mechanical ventilators/respirators, particularly pediatric, for long term respiratory support
> Portable ventilators brand name NEWPORT
> Fiber-optic bronchoscopes
> Anti-microbial filters
> Aspirators, suction machines
> Cardiac monitors
> Pulse oximeters
> Disposable supplies for above machines
> Infusomat brand IV infusion machines
> Tamiflu
> Antibiotics – type not mentioned
> Immunomodulators
> Intra-venous fluids for resuscitation
> Vitamins
> Antihistamines 2nd-4th generation
> Anti-cough medications
> Hormonal preparations (not specific)
> Neuroleptic (anti-psychotic) medications
> Muscle relaxants
> Disinfectant materials
> Protective devices: masks, gloves, safety-goggles, respirators
> PCR tests, presumably for H1N1 flu
> Disposable materials needed in a virus laboratory

Here's
a list of those items that U.S. has agreed to provide to the Ukraine
in response:

(
USUBC website link
)
> The United States is planning to donate 10% of U.S. domestic H1N1 vaccine supply, as it becomes available, to a WHO-led H1N1 vaccine initiative. The U.S. donation to WHO, equivalent to 25 million doses of vaccine, would be valued commercially at approximately $10 million.

> As part of the first phase of this initiative, Ukraine is scheduled to receive 930,000 doses of H1N1 vaccine in early December.
> As required and requested by the GOU, the USG is prepared to make available immunization ancillary materials such as syringes, needles, and vaccine safety disposal boxes, to provide technical support for immunization planning as well as for logistics and assistance to transport the vaccine, to train vaccinators and other professionals, and to prepare communications materials in support of the immunization campaign.

> The U.S. is also prepared to assist Ukraine during this outbreak through the Biological Threat Reduction Program. The Biological Threat Reduction Program works with the Ministry of Health, the State Committee for Veterinary Medicine, and the Academy of Agrarian Sciences to help combat specific threats to public health such as H1N1.

As if all of that weren't surprising enough to read (surprising only because it's the first time I've seen anything close to an American admission that what's going on over there is severe), I also stumbled upon what I believe to be THE SMOKING GUN in this entire saga.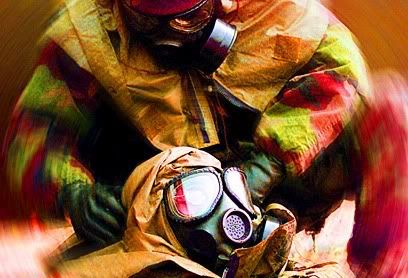 Here's what I believe to be the BOMBSHELL that makes this look more and more like a global conspiracy perpetrated by the multi-billion dollar Pharmaceutical Industry and those at the top of that structure.
From the
USUBC website
(emphasis mine):
USUBC joins with the European Business Association (EBA) in Kyiv and several pharmaceutical industry trade associations in strongly urging President Yushchenko to veto the drug price control legislation...

The representatives of the associations of the pharmaceutical industry also denied accusations of purposeful unfounded raise in the prices of medicines. They said the prices grow together with the devaluation of the national currency against the dollar...

In particular, the head of the Ukrainian representative office of Sanofi-Aventis Jean-Paul Scheuer said that if the law comes into effect, pharmaceutical companies are to cut the prices of medicine by 60%...

As Ukrainian News earlier reported, the Verkhovna Rada on October endorsed a law introducing a moratorium on higher prices of medicines produced in Ukraine

and abroad

until the end of the financial crisis...

In particular, the Verkhovna Rada has introduced the moratorium for the period of the financial crisis until the minimum wage and pensions in Ukraine grow to the level of living and until wage arrears are redeemed in the country...

Did you catch it? Do you see it? This is not just legislation that would affect Ukraine, but one that would affect the entire world! Let's look at one more excerpt (emphasis mine):

The parliament has decided that the prices of medicines produced in Ukraine are regulated by the state. As for the medicines produced abroad, they must be sold at prices effective as at July 1, 2008...


"This will lead to a crisis in the pharmaceutical industry and huge losses," the association's director, Anna Derevianko, said at a press conference in Kyiv on Wednesday...

If ever there was motive to constitute this as a global conspiracy as opposed to solely a European/Ukranian one that's gotta be it, right? I mean, after all, people have killed for a lot less money than what the Global Pharmaceutical Industry is bringing in, and a 60% reduction in profits has got to be unthinkable to them!

Furthermore, in
a letter dated October 7th
(or 1-2 weeks before this mysterious plague began sweeping Ukraine) the Ukrainian Association of Pharmaceutical Research (which represents Boehringer Ingelheim, Delta Medical the official distributor of Bristol-Myers Squibb and Forest Laboratories, GlaxoSmithKlein, Ipsen, Janssen-Cilag, Eli Lilly, Novartis, Novo Nordisk, Pfizer, Sanofi-Aventis, Bayer Schering Pharma AG, Schering-Plough, Servier Laboratories, Solvay Pharma, and Abbott Laboratories) had this to say:


We believe that possible further adoption of this Draft Law in any of its wordings will not only fail to ease social tensions, as promised by the authors of the Draft Law, but will also lead to a social explosion and catastrophic consequences for the pharmaceutical industry in the short term.

Wow! Was that a threat or am I reading into things too much here? Every major pharmaceutical manufacturer is represented too so that's some pretty heavy company if you know what I mean.




Now, let's recall the Biblical evidence we looked at in the beginning of this article found in the Book of Revelation. Then, just think it through and connect the dots here because it's absolutely mind-blowing unless you look at things through a Biblical worldview. That's not to say that the evidence we have before is isn't enough to convince the staunchest secularist, but just that if you want to stay calm and fearless in the midst of such pure evil then you must fight fear with faith and rest on God's promises to us.

Still, I have to ask the question that's staring us in the face right now: Is this retaliation against Ukraine -- in the form of Bio-Terror as charged against Baxter Pharmaceuticals by Joseph Moshe -- by the multi-billion dollar Pharmaceutical Industry (and those governments and individuals aligned with them) to pressure President Yuschenko to veto this new legislation?

Food for serious thought and prayerful consideration. I will say that, if nothing else, it's certainly plausible given the hard evidence.

Here are some additional cherry-picked facts that I pulled from the USUBC website:


> H1N1/Swine Flu was responsible for some but possibly not all of the deaths, according to Health Ministry officials.

> Shortages in flu remedies, surgical masks and even Vitamin C tablets were reported across Ukraine, despite the foreign assistance, as panic buying emptied chemist shelves.

> Black market prices of some flu remedies, particularly Tamiflu, had rocketed to as much as 10 times normal retail value.

> A Tymoshenko-ordered 'quarantine' of Ukraine's nine western provinces was less effective, with intercity road, rail, and air transportation throughout the country continuing to operate at close to normal volumes. Ukraine's senior football league conducted a routine round of matches over the weekend, with games held in stadiums nationwide, despite the ban on public gatherings.


> Ukrainian Prime Minister Yulia Tymoshenko says that the government is currently working on setting up a chain of state-owned drugstores.

Hopefully, it's clear by now that we're not dealing with the expected "surge" in cases of H1N1/Swine Flu, and that something else entirely is going on while our leaders try to keep us all in the dark for as long as they possibly can.

May this column serve as a reminder of why we need to constantly shine the light of truth on the darkness of deceit during this end times.

Please continue to pray for our brothers and sisters in the Ukraine. Pray that God has mercy on the souls of those who are complicit in this evil plot of death and destruction.

Matthew 10:28 (KJV) And fear not them which kill the body, but are not able to kill the soul: but rather fear him which is able to destroy both soul and body in hell.

If you want to go even deeper with this study and prove to yourself beyond a shadow of a doubt how plausible such assertions as I made here really are, and how the Bible actually seems to speak quite candidly of the Pharmaceutical Industry as a key player during the end times, then

READ THIS

and wait until you see the proofs found in the Book of Micah as well as throughout the rest of the Bible.

RECOMMENDED READING:


Enough Is Enough With This Swine Flu Farce




Following The H1N1/Swine Flu Scamdemic Script




Ebola? Bubonic Plague? Pneumonic Plague? Bio-Terror? False Flag? Pale Horse?




Politically Flogging Blogging