WARNING: THE FOLLOWING CONTAINS REPORTING ON SOME GRAPHIC LANGUAGE (IN THE FORM OF LYRICS) AND VISUALS ASSOCIATED WITH A RECENT PERFORMANCE BY A FAMOUS POP STAR. PLEASE PROCEED WITH CAUTION AND OR SEND ANY YOUNG CHILDREN OUT OF THE ROOM.


Following

a mini-discussion that erupted in the Comments Section to another post between reader Dee/Deirdre and I

, I simply had to report on this music-related bit of Satanic-inspired garbage.

It seems like everywhere we turn in pop culture these days we're being bombarded with this idea of "humans merging with technology" (The Singularity/Transhumanism), but it's more to the point where we're being shown the "beauty" of a sexual union between man and machine.

Whether it's blockbuster films like Avatar, or TV shows like "Battlestar Galactica", "Caprica", and "Fringe", now it appears as though the Music Industry is no longer immune. No surprise there though especially when it involves artists who have already embraced the Occult, Satanic world of fame and fortune laced with debauchery.

The latest example is Rihanna. Yes, the same performer who graced the "American Idol" stage last week with an equally bizarre performance. This time it was a stand-out performance at Berlin's Echo Awards to her song "Rude Boy", which left nothing to the imagination: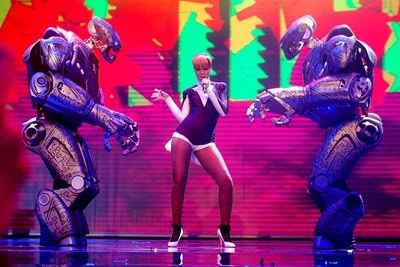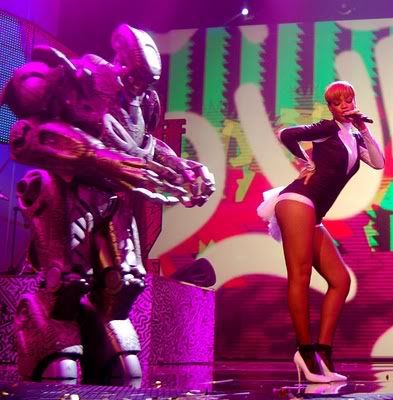 Rihanna Performing 'Rude Boy' - 2010 Echo Awards


NOTE: Pay close attention to the first minute...



As

one commentator

put it:


At the Echo Awards in Berlin the other night, Rihanna took part in a bump-'n-grind threesome with two gigantic robots, and the song climaxed with a squirt to the eye.


Folks, when are we going to start telling others in our sphere of influence about the reality involving the entertainers they admire and idolize?

It's no longer hidden, but instead is hidden in plain sight. Speak the truth! Reveal these demon-inspired performers for who they really are because it's not "just entertainment" or "just a harmless role they're playing" -- it's eternal life or death we're talking about.

Let us also pray that those who have fallen victim to the snares of Satan recover before it's too late (yes, that includes praying for the likes of Rihanna and Lady Gaga too).

Now, if you still doubt the validity of what I'm claiming to be fact here today I would kindly ask you to go back to the first minute or so of that video clip above.

Did you notice the red

Seal of Solomon

in the background video!?! Why is that a BIG CLUE for us that supports my assertions here today?

In Medieval Jewish and Islamic legends (some say Christian legends as well), the Seal of Solomon was a magical signet ring said to have been possessed by King Solomon, which variously gave him the power to command demons, genies (or "jinni"), or to speak with animals (think of the ring in "Lord of the Rings").

I rest my case.

Share