I came across this at

2012

, which had this introduction:


This rather ungraphic advertisement was banned in Canada. The imagery in the video is not shocking graphically, but to those accustomed to the "fetus is not a child" mantra, reality can be kind of harsh, can't it?

I'll simply add this. For us Christians who are Pro-Life, it is "graphic" (although not even close to being as bad as some other ads I've seen accidentally!).

However, I'm beginning to think it's time that we didn't shy away from this sort of thing anymore especially after

the abortion mega-center was opened in Houston, TX

. I mean, after all, it's MURDER of the unborn we're talking about here, right? We need to keep that in mind and stand our ground.

It's also the reason why I'm being drawn lately to Sermons like

"Sinners In The Hands Of An Angry God"

because it's time for non-believers to be shook up a bit, and for us to be less wishy-washy when it comes to preaching the Gospel in this late and urgent hour.

Anyway, this is only 1 minute long and it's one of the most powerful Pro-Life ads I've seen in recent time. It's just sad to think it was banned in Canada.

(NOTE: This is the somewhat "graphic" ad I referenced in the beginning...)



Meanwhile, the same website also called attention to the truth about the Pro-Life Movement being suppressed even further.

Take a look at this despicable case of media bias:



Sad and sickening indeed.

All of this reminds me of a commentary I read recently from

David Horowitz's NewsReal Blog

when he wrote...


David Swindle objects to my uncompromising description of abortion as murder on the grounds that the term "murder" presupposes the mother's intent to be causing the death of something she knows to be a person. At most, he says, "manslaughter" is a more appropriate description, because by pro-lifers' (myself included) own admission, many women seeking abortions may not know that science unambiguously proves that human life begins with fertilization, making zygotes, embryos, and fetuses every cell as much a "human being" as David and me.

For the record, my position isn't that abortion-seekers are purely innocent dupes. I have no doubt that, thanks to the lies spread with impunity by the champions of "choice" and their foot soldiers, many are sincere in their ignorance of embryology. But I'm also aware that many either know what they're destroying, or are callously indifferent. Whether or not the former group constitutes a majority of abortion-seekers, I don't know; the only claim I make is that the number is substantial. And I admit that ignorance of the facts doesn't fully exempt someone from moral responsibility for their actions (I thought the house was empty when I set it on fire, honest!).

Can't argue with any of that, can we?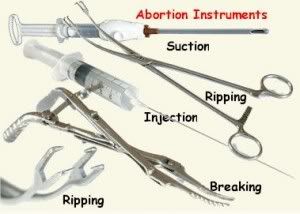 "Murder" weapons or "manslaughter" weapons. Does it make a difference?

One final note. Contrary to popular belief, there are genuine emotional scars and psychological trauma experienced by both those who get abortions and those who perform them. No, these are the types of things we rarely hear about in the news let alone from Hollywood, but it's the truth.

Again, the 2012 blog comes through with this sobering piece -- surprisingly, published in the mainstream press -- on the reality of abortion:


Another study, published in the October 1989 issue of Social Science and Medicine noted that abortion providers were pained by encounters with the fetus regardless of how committed they were to abortion rights. It seems that no amount of ideological conviction can inoculate providers against negative emotional reactions to abortion.

Such studies are few. In general, abortion providers have censored their own emotional trauma out of concern to protect abortion rights. In 2008, however, abortionist Lisa Harris endeavored to begin "breaking the silence" in the pages of the journal Reproductive Health Matters. When she herself was 18 weeks pregnant, Dr. Harris performed a D&E abortion on an 18-week-old fetus. Harris felt her own child kick precisely at the moment that she ripped a fetal leg off with her forceps:

Instantly, tears were streaming from my eyes—without me—meaning my conscious brain—even being aware of what was going on. I felt as if my response had come entirely from my body, bypassing my usual cognitive processing completely. A message seemed to travel from my hand and my uterus to my tear ducts. It was an overwhelming feeling—a brutally visceral response—heartfelt and unmediated by my training or my feminist pro-choice politics. It was one of the more raw moments in my life.

Then there is this shocking revelation from a doctor who changed sides:


Hern and Harris chose to stay in the abortion business; one of the first doctors to change his allegiance was Paul Jarrett, who quit after only 23 abortions. His turning point came in 1974, when he performed an abortion on a fetus at 14 weeks' gestation: "As I brought out the rib cage, I looked and saw a tiny, beating heart," he would recall. "And when I found the head of the baby, I looked squarely in the face of another human being—a human being that I just killed."

The article is not for the faint of heart, but maybe should be recommended reading for those who are pro-choice:

Mugged By Ultrasound

. Another powerful commentary can be found here:

Maybe Pre-abortion Ultrasounds Are Emotionally Torturous For A Reason

.

Now, for anyone who's reading this who had an abortion at one point in their life, the good news is that's Jesus Christ offers you genuine forgiveness for your sin as long as you come to Him in genuine repentance, with a contrite heart, seeking His forgiveness, mercy, and salvation.

Please take some time to visit these ministries and check out some of the resources they provide. In fact, you might even be able to speak to someone if you'd like:


Hope After Abortion





There Is Hope After Abortion





Safe Haven Ministries





A Hope Center





SaveOne





Operation Outcry

Lord, come quickly!


Share
|