We've explored the danger that the so-called "Tea Party Movement" poses to us Christians. So many Christians are adopting it as "their" chance to be heard in Washington DC, and that's cause for concern.

We've even explored the spiritual implications of Christians embracing politicians like Sarah Palin for President in the Right Now Radio broadcast

"Why Are Christians Embracing Sarah Palin When They Shouldn't Be?"

, and concluded that the Bible has some pretty poignant things to say about women as national leaders.

Today, I just came across the following political cartoon and thought it was spot on: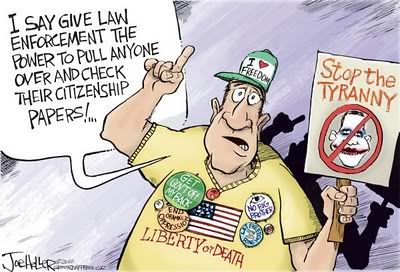 Doesn't that just say it all? The irony is that many Christians are championing the VERY SAME PRACTICE that will be used against them one day soon during the prophesied persecution of the Saints!

Look, I support the current laws in Arizona (in any state for that matter) regarding illegal immigration. There should be a formal, legal method for foreigners who wish to enter this (or any other) country just like our ancestors had to follow. It's just common sense and a simple way for a government to fulfill its mandate of protecting its people. However, the above cartoon speaks volumes I think, and it taps into the real irony involved (and danger) in all of this I think.

It's why I've been banging the drum the past few months about how Democrats-Republicans, Liberals-Conservatives, Left-Right -- it doesn't really matter which side of the aisle you're on -- because these days they're simply two sides to the same coin, and they both want the same thing (they just disagree on the method of achieving those goals).

More importantly, we need to take a step back and look at the BIG PICTURE here using the Bible and the prism of prophecy as our filter. Satan wants nothing more than to distract us with such sophisticated theater like politics. Whether it's domestic or foreign politics is immaterial because he only seeks to inflame passions and prey on people's emotions regarding a particular subject. Once he has us focused on the earthly, emotional, physical realm of things, then he has us right where he wants us -- completely distracted from what really matters and completely detached from our Lord and Savior.

We need to view things from an eternal and a spiritual perspective at all times, and not allow ourselves to get so caught up in the fiery emotions of a debate. Why? Well, not only is that what Satan wants, but also what his loyal minions want as well. Think about it! Those who are constantly striving to establish their New World Order (a.k.a. the prophesied One World Government) believe that they'll be successful in their pursuit by generating "Order Out of Chaos". Order out of what? Chaos!

So, it stands to reason that they will foment chaos, destabilization, political unrest, racial tensions, and social controversy all in an effort to create as much CHAOS as they possibly can in the hopes that it will trigger death and destruction, right? Of course it does.

The only other comment I want to make is how the secular, non-believing world can see what's wrong with contemporary Christianity. Why can't we see it ourselves? Reminds me of the Pharisees, the ultimate hypocrites, in Jesus' day and what we learn from His comments to them.

For more on the Pharisees and Biblical instructions on how all Christians can gauge their spiritual health please listen to the 60-minute study

"Am I A Pharisee?"

.

Are some Christians hypocrites? Well, you already know what I think.


Share
|