For anyone who's visiting this forum for the first time, or those who have been stopping by regularly and this is your first exposure to one of our "Studies In Symbolism", please know that I don't ever believe that I have anything to do with any of this.

Gosh no! What I mean by that is that whenever something catches my eye and sticks with me (often for no real explainable reason), I regularly interpret that to be due to the result of the Holy Spirit and then go where He (and the story) takes me, and a lot of times it ends up touching upon a number of areas all pointing to the same common religious/spiritual memes and themes that we expose and study here.

Now, even though I personally attribute such occurrences to the Holy Spirit because of my Biblical and Christian worldview (not to mention my prophetic perspective), that should not be viewed as a tacit pronouncement that I believe that any of this is a "Thus sayeth the Lord..." type of thing. Sure, it could be, but I can't be certain of that by any means. So, I want to be VERY CAREFUL not to even hint that I'm somehow "speaking for God" here.

At the same time, although these types of studies are subjective, although these types of studies are speculative, I think they still have some redeeming value because they always seem to suggest (without contriving things) that we're all right to assume that our time for spiritual preparation is just about over and that the beginning of the end is close at hand. You can read the rest of this and then tell me what you think about that in the Comments Section if you want to. Anyway, I just wanted to clarify things and be as transparent as possible with everyone.

Once again (and as always), I will caution that I know that a lot of times these types of entries test one's patience given all the various threads that we attempt to tie together, but please try to work your way through this one without rushing because there's so much here that defies logic and mere "coincidence" (which Christians don't believe in anyway, right?), and I think that MIGHT BE an important clue for us.

What does it have to do with? What's the important message we should all take away from reading today's post (if any)? REPENT! JUDGMENT IS COMING!!! THE BODY OF CHRIST NEEDS TO GET SERIOUS BECAUSE THE TIME FOR SPIRITUAL PREPARATION IS ALMOST OVER! That is the cold, hard truth regardless of any subjective analysis of perceived "signs" and "symbols" like this one.




AN IMPORTANT DISCLAIMER (CONTINUED)...




First, an admission, and a word of caution. Even though I've opened the last few "Studies In Symbolism" pieces with this type of introduction, I feel like this is something I must now include as standard fare in all future posts of this kind.

Yes, I know that studies in symbolism are highly subjective, and that can be dangerous. I get that. I also realize that this world can be distracting and that Satan will use whatever he can to keep us from doing the things that we should be doing; from setting our minds on the things that we should be setting our minds on (

Colossians 3:2

).

At the same time, while we are not of this world, we're still in it. Personally, my intention here is that I want to try and point to the things going on in this world (even if they're HIGHLY SYMBOLIC in nature, esoteric, and open to one's own unique interpretation) and demonstrate not only how it MIGHT BE connected to the Bible's end times prophecies

(but only so far as it gets us students of end times Bible prophecy to consider the lateness of the hour based on what such symbolism reminds us of)

, but also WHAT IT WAS IN GOD'S WORD that it forced me to think about.

My thinking is the same as it's been since day 1 a little over 2 years ago in these parts. If I'm clear about this being MY ANALYSIS AND INTERPRETATION OF SIGNS AND SYMBOLS IN POP CULTURE AND THE WORLD AROUND US AS I PERCEIVE THEM (as opposed to it being a

"Thus sayeth the Lord..."

type of pronouncement), and if such a study ultimately gets me to spend even more time watching and praying for Jesus' return, let alone more time in the Word studying it, then how bad can a process like this be? Am I wrong to assume that the ends justify the means in this case? I don't think that I am, but you're free to disagree since I admit that I could be wrong about that.

So, from now on, I'll always feel that it is necessary to openly state these things for anyone who's new to Look Up Fellowship, or for the rest of you who still have a problem with these kinds of studies in symbolism (if that's you, then you might also want to re-read what is written about what we do here in the "What We Believe" section of this website on the right hand side of this page).

An apology is in order too. I used to think that it's almost as if the good Lord is pulling out all the stops to "give us a head's up" about what's coming -- what's imminent -- and that He's putting these messages in all the things that we've sadly allowed to become "False Idols" in our lives like art, comics, music, movies, politics, pop culture, TV, and sports to name a few. Why? Because we've stopped talking to Him and reading His Word and, as a result, many of us are clueless about what we're told about what to expect in the coming last days. Worse, maybe we're not "clueless" at all. Maybe we just don't care unless it affects us negatively on a deep, personal level.

How did I arrive at such a thought? Well, I know from what I read in the Bible that the Lord does, in fact, speak to us (and reveal Himself to us) through His creation. I reasoned,

"What are art, comics, music, movies, politics, pop culture, TV, and sports except an extension, or a part, of His creation?"

and so that's why I was ok thinking that for so long.

I also used to think that because of what we read in

2 Peter 3:9

(amongst other places) about God's character and love, that that somehow meant that perhaps He was using those aforementioned "extensions" of His creation because He was "desperately trying to get our attention" since we weren't giving Him the time of day.

That sounds good, right? It makes sense. But it's not Biblical. I couldn't find any verses that made me feel comfortable making such claims, or even insinuating such claims to all of you any longer.

Lord, have mercy on me for I have sinned!

See, besides, once I began to study the Sovereignty of God, as well as the Doctrines of Grace, I realized that to hold on to any kind of position that said that God was speaking to us through such things because

"He was desperately trying to get our attention..."

renders Almighty God impotent! It takes away His sovereignty and puts it squarely in the hands of humanity! Again, nothing Biblical about that.

To make such a vile assertion is to make it sound like He's just sitting up there on His throne, fingers crossed, hoping that we'll "finally get it" and "come to our senses" before it's too late. That flies in the face of all the passages in Scripture that speak to His sovereignty and grace and how He draws "the elect" to Him. It says that man has the freedom to "choose" or "reject" Jesus Christ, which would make Jesus a POTENTIAL Savior for some, and an ACTUAL Savior for no one. Again, how wrong I was!

No, He's not involved in most of this in the way I've suggested. Some of it, yes, but not for the reasons I've attached to it, and not as much as I've attributed to Him in the past I'm afraid. Not in the way that I have suggested for far too long. I hope that makes sense. I can admit that error (sin) on my part. Please forgive me.

So, where do we go from here then? First, I wanted to redefine my position here for the record when it comes to studies in symbolism that you will find on LUF from this moment on. From this point forward, whenever I use the headlines, images, memes, stories, symbols, and themes we find in the world around us, it will ONLY be to use them AS A STARTING POINT for a study on end times Bible prophecy (in the sense that "this made me think of this today..."), and it will NEVER be with the caveat,

"Hmmm...Maybe God is trying to get our attention and trying to tell us something so that you'll finally make Him your Lord and Savior, huh?"

because that's not right. Who the heck am I to speak for God Almighty or to even assume I know what He's saying with any kind of certainty when it comes to these matters?

Let me clarify before moving on to today's main focus. Yes, God is speaking to us, and many of us aren't paying attention or listening at all. I'm also not saying that He doesn't speak to us through events that He orchestrates. He does. I'm just saying that I'm personally going to "take it down a notch" when it comes to stating with any kind of authority that I "know" that this is what He's doing for certain. It's also why I'll also present these pieces with the title of the post in the form of a question. Again, who am I to claim such things? I'm nobody!

We'll begin by using the Word of God as our foundation before proceeding with today's study...


Matthew 10:16 (KJV)

Behold, I send you forth as sheep in the midst of wolves: be ye therefore wise as serpents, and harmless as doves.





Ephesians 5:11 (KJV)

And have no fellowship with the unfruitful works of darkness, but rather reprove them.





Proverbs 25:2 (KJV)

It is the glory of God to conceal a thing: but the honour of kings is to search out a matter.





Luke 21:36 (KJV)

Watch ye therefore, and pray always, that ye may be accounted worthy to escape all these things that shall come to pass, and to stand before the Son of man.





Matthew 10:28 (KJV)

And fear not them which kill the body, but are not able to kill the soul: but rather fear him which is able to destroy both soul and body in hell.





Luke 21:28 (KJV)

And when these things begin to come to pass, then look up, and lift up your heads; for your redemption draweth nigh.
Where do we even begin?


"RIGHT FROM THE START, I GAVE YOU MY HEART..."


I can't believe I'm even going to write and publish this.

I will readily admit to you that this could very well be nothing more than "An Exercise In The Seemingly Absurd" too.

Ok, I'll keep this short. Let me ask you all a question. Have you ever just been sitting around, or in the middle of doing something, when all of a sudden -- for no apparent rhyme or reason -- a random song just pops into your head?

Whenever this happens to me (and, no, it's not often) it's ALWAYS a song from several years ago and one that defies explanation as to why my brain even thought of it in the first place let alone why my brain then instructed my lips to start singing the words to the tune.

Well, that happened to me this morning. I was sitting here checking my email when it happened. The song? The 1976 hit single (I was born in 1979!) and duet by Elton John and Kiki Dee called "Don't Go Breaking My Heart", which I'm sure we all know...



Elton John/Kiki Dee: "Don't Go Breaking My Heart"





I know, I know.

See, I told you this was going to be a "weird" one today. Yes, even weirder than most. For whatever reason though, I just kept thinking about why my mind would bring that up today to the point where I couldn't get it out of my head until I started researching and writing this.

You know, so many of us have been asking ourselves whether or not we truly love our Lord and Savior as much as we say that we do. The evidence of such love being submission to Him in all things in our lives and obedience to Him and His Word even when there's a personal cost to us.

The above video doesn't show the lyrics, but just take a look at some of the words here and marvel at how this could easily remind us of a hypothetical conversation between any one of us and the Lord (a hypothetical conversation between the Bridegroom and His Bride?) who is reminding us that He "loved us from the start" and "gave you my heart" in the form of Jesus Christ...


Don't go breaking my heart


I couldn't if I tried
Honey if I get restless
Baby you're not that kind

Don't go breaking my heart
You take the weight off me
Honey when you knocked on my door
I gave you my key

Nobody knows it
When I was down
I was your clown
Nobody knows it
Right from the start
I gave you my heart
I gave you my heart

So don't go breaking my heart
I won't go breaking your heart
Don't go breaking my heart

And nobody told us
'Cause nobody showed us
And now it's up to us babe
I think we can make it

So don't misunderstand me
You put the light in my life
You put the sparks to the flame
I've got your heart in my sights

What do you think?

Look, I know that this song wasn't written about the Bride-Groom relationship between Christ and the church and that all the lyrics don't apply. Gosh, it's even being song by an openly homosexual man (deeper symbolism there if we factor in the Apostasy and/or False Converts I think)! I get that. However, that's not my point here with any of this.

What's my point then? Well, that I'm merely trying to relay to all of you an unusual experience that I had this morning and how it was used to lead me somewhere beautiful.

Perhaps this next part will help to clarify things a little better and explain what I mean by that last cryptic statement.


THE LAODICEAN LOVE SONG


One of the key reasons why I thought that the Lord was bringing a random 1970s pop song to my attention this morning for a specific reason was because He knew that it would cause me to think about a study I wrote and published on...GET THIS!...

November 6th, 2009

-- or roughly 1 year ago this week! What are the odds of that!?!

Plus, not that He needs my help with anything, but I often wonder if these things happen to me because He knows I'm "crazy" enough to follow His lead and write about them when most people would probably just dismiss them quickly for fear of ridicule.

Sorry, but that's not me especially lately as He has been encouraging me to be more assertive, bold, and courageous in exploring various "controversial" topics discussed in the holy Scriptures while also taking a public stand on certain issues too.

Galatians 1:10

is my guide.

Before I continue, let me reiterate that this is not a "Thus sayeth the Lord..." type of pronouncement. As always, something highly unusual in it's content and timing was brought to my mind this morning and (as always) I take that to mean that I'm supposed to look into it more closely to see what it MIGHT TELL US about where we are with what we have at this point along God's prophetic timeline since I always begin each morning praying for His direction and guidance about what to focus on next in this forum.

My point? Despite my personal faith that suggests to me that this is somehow relevant to our studies of these end times, it is wholly MY OWN INTERPRETATION AND SUBJECTIVE ANALYSIS OF THINGS and therefore certainly open to being "wrong" in the conclusions and messages that are drawn from the material at the center of such a study in symbolism. Please take everything you read in this entry to the Lord in prayerful consideration (

Acts 17:11

).

A few moments ago, I mentioned a column from approximately 1 year ago that ties in with today's study. The catalyst for that 2009 article was a daily devotional from The Berean that presented a case that I had never seen before.

I've already seen other ministries point out that the Bridegroom/lover/husband is symbolic of Jesus Christ and his relationship/marriage with the church (true body of believers). Yet, in this particular message, The Berean was making the case that certain passages of the

Song of Solomon

correlate quite powerfully to the message given to the Laodicean Christians addressed in the Book of Revelation in

Revelation 3

, or the body of believers alive in this present age -- you and me!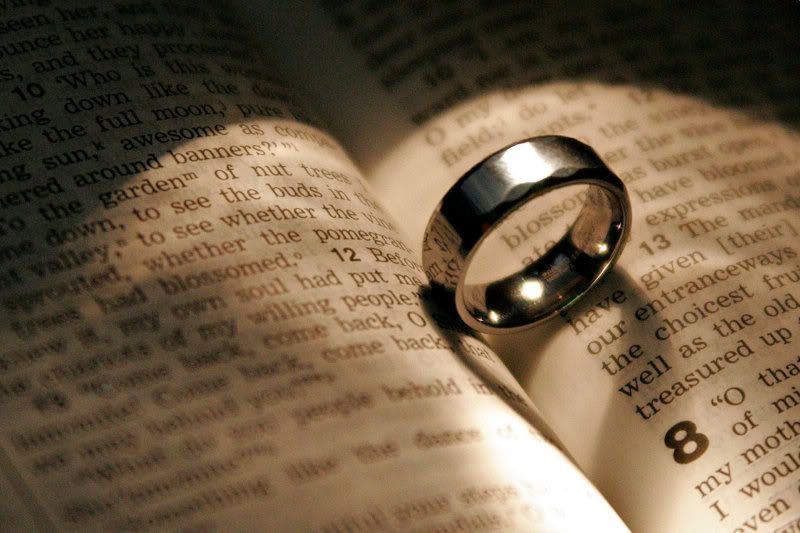 Read this (I'll use the NIV for absolute crystal clarity; emphasis mine)...


Song of Solomon 5:1-10 (NIV)

I have come into my garden, my sister, my bride; I have gathered my myrrh with my spice. I have eaten my honeycomb and my honey; I slept but my heart was awake. Listen! My lover is knocking: "Open to me, my sister, my darling, my dove, my flawless one. My head is drenched with dew, my hair with the dampness of the night." I have taken off my robe--must I put it on again? I have washed my feet--must I soil them again? My lover thrust his hand through the latch-opening; my heart began to pound for him. I arose to open for my lover, and my hands dripped with myrrh, my fingers with flowing myrrh, on the handles of the lock. I opened for my lover, but my lover had left; he was gone. My heart sank at his departure. I looked for him but did not find him. I called him but he did not answer. The watchmen found me as they made their rounds in the city. They beat me, they bruised me; they took away my cloak, those watchmen of the walls! O daughters of Jerusalem, I charge you--if you find my lover, what will you tell him? Tell him I am faint with love. How is your beloved better than others, most beautiful of women? How is your beloved better than others, that you charge us so? My lover is radiant and ruddy, outstanding among ten thousand.

Quickly contrast that to the lyrics from the 1976 duet we just looked at.

Verse 2 begins a dream sequence. The woman is not really sure what is happening. Is it really happening? Many of us have experienced a similar thing while in bed and dreaming, but the dream seemed so real that we wondered whether it was reality.

What is real when one is half asleep? The mind is still fogged by a state of drowsiness; it is simply not focused. Solomon presents this "dream" like this because many times, when we are fully alert and focused on what we are doing, much of what we are or think about is restrained or contained.

But when we go to sleep, the mind begins to release the things the will has kept submersed. The subconscious begins to express itself when nothing restrains it.

This young lady is finding out that her love is not as deep and true as it needs to be for a successful marriage. She lies unclothed on her bed, which is reminiscent of the Laodicean: "wretched, miserable, poor, blind and naked" (

Revelation 3:17

). Her feet are washed; her work for the day is over -- she thinks.

She will not stir herself to do what is disagreeable to her at this most inconvenient time, even though her lover is standing at the door, knocking (

Revelation 3:20

). She delays responding to him, unsure if she is dreaming or not.

She finally begins to respond positively in verse 5, but by then it is too late. This is reminiscent of the Parable of the Ten Virgins (

Matthew 25:1-12

). The cry of the bridegroom goes out, but some do not have enough oil, causing them to respond too late to the bridegroom's voice. It is very interesting that oil of myrrh is mentioned both here and in Matthew 25. In verse 6, she is struck with guilt and remorse for not having responded to his offer of love. She begins calling out for him and seeking to find him in the city.

The watchmen patrol the city, which represents the world. What is happening in the city, out in the world? The Tribulation! "The watchmen that went about the city found me. They struck me, and they wounded me: the keepers of the walls took my veil away from me." The stolen veil is a symbol of being shamed.

The watchmen are worldly people. They see only with their eyes, and thus they cannot see the deep and earnest repentance and yearning that is now within her. They do not see her as the bride, but as a woman -- a common woman of the streets, which is why they beat her. They see her as a prostitute. So, without even bothering to find out who she is, they persecute her, tearing some of her clothing from her. Remember that clothing symbolizes righteousness in the Bible.

In verse 8, she turns away from the people who are persecuting her, represented by the watchmen, to the daughters of Jerusalem, from whom she would expect to receive sympathy. She hopes that they might relate to what she is going through. She asks them in her agony to try to help her to find her love. Again, we are meant to think of Jesus Christ here.

The daughters of Jerusalem respond with a question, "What is he like? Tell us about him, we don't know who he is." She begins in verse 10 to describe him. What she is doing, of course, is making her witness before the world. Some might say that she is giving her testimony of her beloved, of what he is like. She describes him in the most glowing of terms. Here, because of the theme, it has to be done in physical terms, but we understand that he is not just physically attractive. She also describes what he is spiritually to these people. She is complementing the preaching of the Two Witnesses (

Revelation 11:3-12

), through her own personal witness, while she is in tribulation. The level of apparent "spiritual convergence" is unreal, right?

The point of all this is that it will be this way for some, but it does not have to be this way for anyone. If she had given of herself to him when he was courting her, this would never have happened. We are being courted by Jesus Christ right now. We are being led toward a marriage -- the marriage of the Lamb to the church of God.

If she had really been working on yielding to Him -- developing her relationship with Him -- she would have known His love for her and would have made any sacrifice for Him, no matter how inconvenient. This is what Jesus teaches in the series of parables beginning in

Matthew 24

after the Olivet Prophecy.

Wow! What a beautiful thought and presentation! It makes me think of what we read in one of the final chapters of the Song of Solomon:


Song of Solomon 7:10 (NIV)

I belong to my lover, and his desire is for me.

The Christian is a chaste virgin, waiting to be presented to Jesus Christ as His Bride since He is our Bridegroom (see

2 Corinthians 11:2

and

Psalm 45:11

).

The words attributed to the Laodiceans obviously mark an ironic "over-confidence" in regard to spiritual wealth. The truth is that they are unable to recognize their "spiritual bankruptcy" that should be clear to them.

May the world listen to this "Laodicean Love Song" and heed its warning. Time is short -- perilously short. This is why I felt that this needed to be written about today for all of you. I can only prayerfully ponder whether or not

this comment added to the previous post this morning

(which I only read AFTER writing this) is somehow connected to all of this like I sense it my spirit it could be.

Interestingly enough, I should point out that the "B Side" to the "Don't Go Breaking My Heart" album? A song called "Snow Queen" that calls to mind

Hans Christian Andersen

's famous fairy tale of the same name. What is Andersen's story about? Oh, just EVERYTHING that's relevant here...


The tale was first published in 1845, and centers on the struggle between good and evil as experienced by a little boy and girl, Kai and Gerda. An evil "troll," "actually the devil himself", makes a magic mirror that has the power to distort the appearance of things reflected in it. It fails to reflect all the good and beautiful aspects of people and things while it magnifies all the bad and ugly aspects so that they look even worse than they really are. The devil teaches a "devil school," and the devil and his pupils delight in taking the mirror throughout the world to distort everyone and everything. They enjoy how the mirror makes the loveliest landscapes look like "boiled spinach." They then want to carry the mirror into heaven with the idea of making fools of the angels and God, but the higher they lift it, the more the mirror grins and shakes with delight. It shakes so much that it slips from their grasp and falls back to earth where it shatters into billions of pieces — some no larger than a grain of sand. These splinters are blown around and get into people's hearts and eyes, making their hearts frozen like blocks of ice and their eyes like the troll-mirror itself, only seeing the bad and ugly in people and things.

Say what you will about that classic tale and its obvious allusions to Christianity (as in whether it's "accurate", "right", or "wrong" in doing so), but I have to tell you that I discovered something potentially profound in this "Exercise In The Seemingly Absurd" today. I pray that you have as well, and that this post wasn't in vain, or a waste of your time.

Without giving anything away, at the end of the whole Snow Queen story, the grandmother character reads a passage from the Bible. That passage?


Matthew 18:3 (NIV)

And he said: "I tell you the truth, unless you change and become like little children, you will never enter the kingdom of heaven.

Now, isn't that fitting given our recent studies? You bet it is!

In case you want to do your own Bible study on what that verse is trying to tell us, you might want to check out the post we did also roughly 1 year ago titled

"A Childlike Faith"

for more info, or you can

LISTEN TO THIS

.

Sure, some might say that weird things happen without there having to be a "meaning" behind them. Others might say that all things are the direct result of our Sovereign Lord and, therefore, demand our close scrutiny even if we might never be able to fully understand the meaning behind it all.

You can count me amongst that latter group. For better or for worse, my mind is constantly set on Him and His Word and that's why I don't take anything too lightly -- even songs that pop into my head for no apparent reason.


REPENT! JUDGMENT IS COMING!!!


What else can I write that I haven't (or that you all haven't written or read) yet?

The general theme that we've been seeing lately remains consistent even in today's study involving several new news items, players, and places. In the final analysis, the beginning of Daniel's 70th Week -- the start of the Tribulation -- is at hand!
Is Jesus Christ about to open the Seals just like we suspect that He is?




Now you know why I keep thinking that we're on the cusp of the Tribulation because EVERYWHERE we look we seem to be getting signs that point to its nearness by bringing our attention back to the subject over and over again regardless of any "tunnel vision" some might say that we have because we're studying these things all the time.





Sure, this is the deep, symbolic analysis and interpretation that is far riskier and much more subjective (as my disclaimer to open with asserts), but the fact of the matter is that even if we didn't have symbolism studies like this we'd still have to conclude that the beginning of the end was near.





World events and the other news headlines of the day confirm this for us by lining up with what God's Word explicitly tells us to expect, and they prove as much without us having to undergo lengthy speculative studies like this.





Even so, it's the unexpected "spiritual convergence" like this stuff that comforts me because it reminds me that our Lord is in complete and total control of EVERYTHING despite all the chaos and uncertainty that surrounds us on a daily basis.



So, regardless of what does or doesn't happen in the days, weeks, and months ahead, let's always try to rest on truths like this...


Matthew 10:28 (KJV)

And fear not them which kill the body, but are not able to kill the soul: but rather fear him which is able to destroy both soul and body in hell.
All the more reason for us to ask ourselves

"Am I A Good Person?"

and

"Am I Saved?"

before it's too late because none of us knows when we'll take our last dying breath.

Repent! Judgment is coming!

Rest in Him! Rest in His Word! Keep looking up!



Share

|