Calling all Christian husbands...

Guess what? If you call yourself a Christian, then your role as a husband is
a calling
in and of itself.
A calling
. Imagine that! Are you living like it is a calling though? I will admit that I thought I was, but really wasn't.

Matthew Henry once wrote,
"The woman was made of a rib out of the side of Adam; not made out of his head to top him, nor out of his feet to be trampled on by him, but out of his side to be equal with him, under his arm to be protected, and near his heart to be loved by him."
Isn't that beautiful?

For those of you who are Christian husbands, that's the mindset and spirit that I want to encourage with this piece today. I also want to make sure I point out that this Bible study should be read by Christian wives too because it's equally important for you to know what God expects of your husband as it is to know what God expects of you (John 14:15; Ephesians 5:22; 1 Peter 3:1; Colossians 3:18).


"Wait, being a husband is a 'calling'?"
Yes, yes it is. As a married man, I have an additional responsibility besides being just an ambassador for Christ (2 Corinthians 5:20).

I use the word 'just' not pejoratively, but merely to point out that since marriage is a microcosm, an earthly representation of our personal relationship with Jesus Christ, then there is naturally something a little more inherently intense about that relationship.


God's covenant faithfulness is our measure, our norm. The faithful love of Christ models the Christian man's marriage covenant. Jesus does not love the church because it is pure and spotless – He purifies the church in order to make it spotless. Just so, godly husbands love their wives despite their wives' blemishes, not until they get blemishes. Thus we do not size up our wives each week to decide if we will love them a while longer. The idea of ever-fresh decisions, even decisions to stay faithful, is naïve.


-- Dan Doriani
The Life Of A God-Made Man, P&R Publishing, 2001, p. 61.



Marriage is a picture of Christ and the church. It is a sacred mystery. In fact, the sacredness of Christ's church is linked to the sacredness of marriage. Christ is the heavenly Bridegroom and the church is His bride (Revelation 21:9). Marriage illustrates this union. The husband is called to be Christlike in his love for his wife because this protects the sacredness of the divine object lesson. The Christian husband therefore displays what he thinks of Christ by the way he treats his wife. And marriage itself is a sacred institution because of what it illustrates.




-- John MacArthur




Successful Christian Parenting, Word Publishing, 1998, p. 180.

There it is plain and simple.

Please understand that that's not to say that those Christians who are married are 'more spiritual' than those Christians who are single -- not at all.

Again, I just want to point out some of the key differences, but also encourage my fellow brothers who are Christian husbands themselves (while also giving Christian wives some additional insight into the awesome responsibility that the Lord has entrusted to us married men so that they can encourage us, and pray for us, accordingly).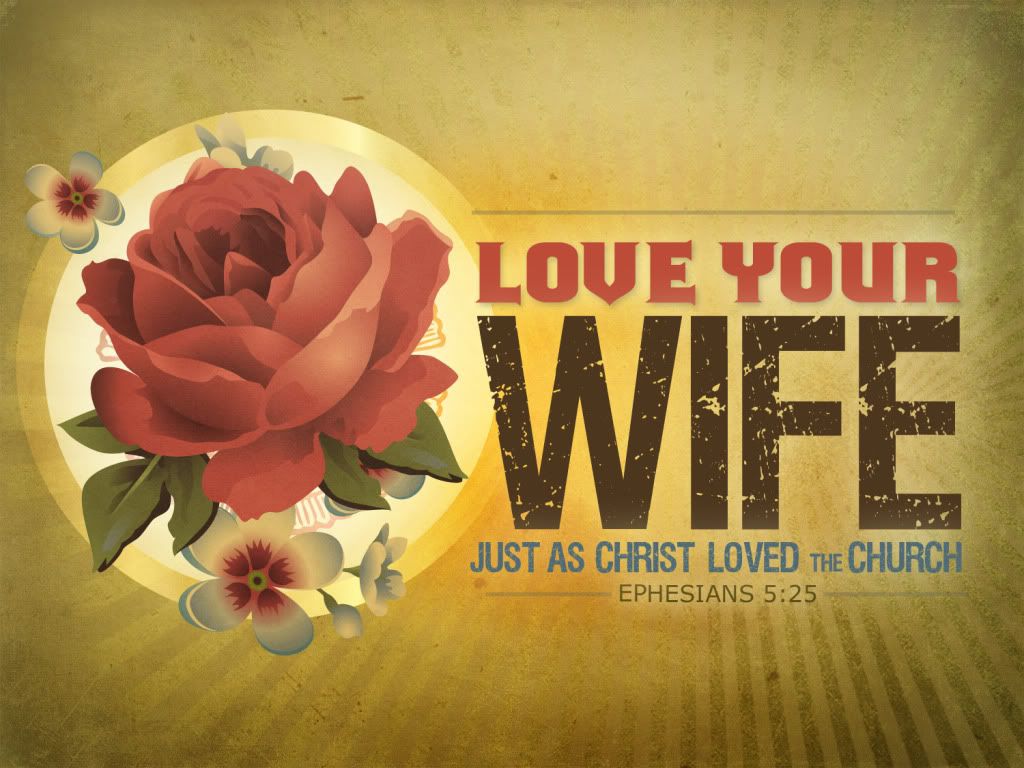 Let's be honest.
Did you ever really stop to prayerfully consider what it means for husbands to love their wives just as Christ loved the church?
It seems pretty straight-forward, doesn't it? Have you ever spent a few minutes thinking about what that should mean though? Honestly. I thought I did. I thought I knew what that meant. Boy, was I wrong!


Ephesians 5:25 (KJV)

Husbands, love your wives, even as Christ also loved the church, and gave himself for it;





Colossians 3:19 (KJV)

Husbands, love your wives, and be not bitter against them.

In hindsight, I'd say that Ephesians 5:25 is actually linked to 2 Corinthians 5:20. If a husband can't learn to love his wife like
"Christ loved the church"
, then how in the world can he also call himself an ambassador for Christ? Ambassadors represent the One who sent them, right? Of course they do.

Truth is, Ephesians 5:25 is also linked to many other passages of the text that exhort us to submit to the Holy Spirit so that we can be conformed to the image of Christ (Romans 8:29; Romans 12:2; Ephesians 4:23-24; Ephesians 5:10; Ephesians 5:17; Colossians 3:10; 1 Peter 1:14).


What I realized is that while I was trying to lovingly point out to my better half the need for Christians to practice what they preach, I was failing miserably in that regard myself when it came to having those discussions with her. In that sense, I was most definitely a self-righteous hypocrite.
Simply put, there is a 'right' way to share the Gospel with your wife and there is a 'wrong' way to share the Gospel with your wife. Regrettably, I learned that I was doing it the 'wrong' way more than I was doing it the 'right' way and that bothered me immensely (as it should).


As one Anonymous Christian once put it,
"Husbands must know, bestow, and show the Word..."
, which is so true, isn't it? I mean, who wouldn't agree with that? Yet, how many of us are really practicing what we preach? My guess is that most men are like me. Sure, we know the Word, we bestow the Word, but we don't fully show the Word like we should.

Ah! Therein lies the sad irony of this whole situation. Again, I'll speak for myself and tell you that in my passion and zeal for Him and His Word (and making sure my loved ones knew what it said, believed it with all of their heart and mind, and lived it and loved it), I would sometimes defend Gospel truth to the point where I became so angered and frustrated that it led me to sin because of the way I sometimes talked to my wife and others (Galatians 5:22-23; 2 Corinthians 6:6; James 1:3; James 1:19; Colossians 1:11-12; Colossians 3:12; Hebrews 6:12; 2 Corinthians 13:10).


That was wrong of me. That was a sin that I'm guilty of. The good news is that now that I know the truth about myself I can repent and turn from it (Ezekiel 18:30; Acts 3:19; 1 John 3:18-19).


Let me be absolutely clear. I love my wife dearly. She is a blessing from God Himself, the mother of my children, and so very precious to me (Proverbs 18:22). She knows it too because I tell her that all the time. I don't treat her like I'm some kind of a tyrant. God forbid! Still, every now and then I lose my patience when we're discussing God's Word and its application to our lives, and that's when my preaching the Gospel becomes more predatory than promising. I'm ashamed of that truth because those are the times when I've sinned and failed to bring glory, honor, and praise to the Lord let alone failed in encouraging my bride.

Yes, there is such a thing as 'righteous anger' that can be justified with certain people in certain situations, but even then we must be very careful (Romans 12:17; Romans 12:19; Ephesians 4:27). Besides, my feeling now is that such cases are often reserved for the pulpit to parishioners and not in the parlor to one's precious wife. That's where the heart of Christ needs to have arms and legs so it can do some of its most important work.

It's like R.C. Sproul cautioned us Christian husbands...


When the New Testament speaks of the church's glory, it is speaking of its dignity. By analogy, the husband is called to give himself to the purpose of establishing his wife in the fullness of dignity. When he uses his authority to destroy his wife's dignity, he becomes the direct antithesis of Christ. He mirrors not Christ but the Antichrist.




-- R.C. Sproul




The Intimate Marriage, P&R Publishing, 1975, p. 57-58

Ouch! But a necessary sting that needs to be felt by some of us (one that needed to be felt by me).

I have to say that despite my disagreement with family members and friends over the past week's Halloween festivities, it wasn't just them that I believe the Lord was working to change during our interactions over that subject. No, He was most certainly working to change my heart and mind too.

It's one thing to
"speak the truth in love"
(Ephesians 4:15) out of a genuine love for your dear brothers and sisters in Christ -- your dear wife even -- but another thing far worse to do so without the grace, love, and mercy that exemplifies Christ (2 Corinthians 8:24; 1 John 3:18; 1 Peter 2:17; Hebrews 10:24; James 1:19; James 3:17).

Specifically, I was taught an extremely valuable lesson on what it means to be a Christian husband (and a father) for His glory, honor, and praise and discovered it actually goes much, much deeper than Ephesians 5:25; deeper than I thought. I also discovered I need to add a few more books to my reading list!

All kidding aside, when I first began this study over the weekend, I was led to several quotes from John Piper. We'll start with those I think...





As Jesus says in Luke 22:26,

"Let the leader become as one who serves."

The husband who plops himself down in front of the TV and orders his wife around like a slave has abandoned the way of Christ. Jesus bound Himself with a towel and washed the apostles' feet. Woe to the husband who thinks his maleness requires of him a domineering, demanding attitude toward his wife. If you want to be a Christian husband, you become a servant, not a boss.




-- John Piper /

Desiring God

, 1996, p. 184





A famous cigarette billboard pictures a curly-headed, bronze-faced, muscular macho with a cigarette hanging out the side of his mouth. The sign says, "Where a man belongs." That is a lie. Where a man belongs is at the bedside of his children, leading in devotion and prayer. Where a man belongs is leading his family to the house of God. Where a man belongs is up early and alone with God seeking vision and direction for the family.




-- John Piper /

Desiring God

, 1996, p. 185





Headship is the divine calling of a husband to take primary responsibility for Christlike, servant leadership, protection, and provision in the home.




-- John Piper / This Momentary Marriage – A Parable of Permanence




Desiring God Foundation, 2008, p. 80





There is no necessary connection between being an effective leader and being more intellectual or more competent than your wife. Leadership does not assume it is superior. It assumes it should take initiative. See that the family prays, and reads the Bible, and goes to church, and discusses spiritual and moral issues, and learns to use the means of grace, and grows in knowledge, and watches your example in all these things.




-- John Piper / This Momentary Marriage – A Parable of Permanence




Desiring God Foundation, 2008, p. 89





What women rightly long for is spiritual and moral initiative from a man, not spiritual and moral domination.




-- John Piper / This Momentary Marriage – A Parable of Permanence




Desiring God Foundation, 2008, p. 89





When Adam and Eve sinned in the garden and God came to call them to account, it didn't matter that Eve had sinned first. God said, "Adam, where are you?" (Gen. 3:9). That's God's word to the family today: Adam, husband, father, where are you? If something is not working right at [your home] and Jesus comes knocking on the door, He may have an issue with [your] wife, but the first thing He's going to say when she opens the door is, "Is the man of the house home?" That's the way it happened in the first marriage. That's the way it will happen in our marriage.




-- John Piper / This Momentary Marriage – A Parable of Permanence




Desiring God Foundation, 2008, p. 92

Those words from Piper were personally convicting, but not as convicting as a few others I came across in my study of Ephesians 5:25 this past weekend.

Before reading these next gems, please pray that the Lord would prepare your heart and mind to receive what the Holy Spirit will speak in truth to you and your unique circumstances in life at this very moment.





The Christian is supposed to love his neighbor, and since his wife is his nearest neighbor, she should be his deepest love.




-- Martin Luther / Christian Reader, v. 32, n. 3





God also places a man in a relationship with a woman so that she will grow spiritually within the safe confines of his loving care. This is masculine love, as defined by God: to nurture and to protect. Men are to show a protective and nurturing concern for women that equals (or surpasses) their instinctive concern for their own bodies. As Christian men do this, the women in their lives will shine with the spiritual beauty that is precious to God.




-- Richard D. Phillips and Sharon L. Phillips




Holding Hands And Holding Hearts, P&R, 2006, p. 73





Marriage is a call to die (to self), and a man who does not die for his wife does not come close to the love to which he is called. Christian marriage vows are the inception of a lifelong practice of death, of giving over not only all you have, but all you are. Is this a grim gallows call? Not at all! It is no more grim than dying to self and following Christ. In fact, those who lovingly die for their wives are those who know the most joy, have the most fulfilling marriages, and experience the most love.




-- R. Kent Hughes / Disciplines Of A Godly Man, Crossway Books, 1991, p. 35-36





The man who sanctifies his wife understands that this is his divinely ordained responsibility...Is my wife more like Christ because she is married to me? Or is she like Christ in spite of me? Has she shrunk from His likeness because of me? Do I sanctify her or hold her back? Is she a better woman because she is married to me?




-- R. Kent Hughes / Disciplines Of A Godly Man, Crossway Books, 1991, p. 37-38





(To fulfill their God-given role, husbands are to:) Take the initiative to be the spiritual leader in the home - to pray, to worship at church, and to study God's Word. Take the initiative to see that finances are in order, needs are met and your wife feels financially secure. Take the initiative to ask forgiveness, resolve conflict and ensure your home is a place of encouragement and safety.




-- Dennis Rainey / Preparing for Marriage, 1997, p. 170





Biblically speaking, there are no exceptions or exemptions for a father when it comes to overseeing family responsibilities. This does not mean, of course, that he is to do all the work, but ultimately he is responsible to make sure that all members of his family are loved, cared for, encouraged, and taught God's truth. In turn, he is responsible for each person to function properly (according to age levels) within this God-ordained social unit.




-- Gene Getz / Elders and Leaders, Moody, 2003, p. 265





To be like Jesus Christ in relationship to your wife is an enormous order to fill. You are to be the head of your home, including your wife, just as Christ is the head of the church. When you fail, you not only fail your wife, you also fail to represent your Lord's love for His church. That is why your task is such a solemn one. When you fail to reflect Him in your marriage, you damage His name. You are called to show forth Jesus Christ by the leadership that you exercise in your home.




-- Jay E. Adams / Christian Living in the Home, P&R Publishing, 1972, p. 89





If love has grown cold in your family, husband, you must do something about it. If you are going to emulate the love of Jesus Christ for His church, it is up to you to initiate love...Jesus loved us when we had no love for Him. You are the head of your home. If there is little or no love in that home, it is your fault. God holds you responsible to introduce love. You must do that by giving.




-- Jay E. Adams / Christian Living in the Home, P&R Publishing, 1972, p. 101





Husband's Checklist:




1. Do I know what is going on in my home from day to day?




2. Am I in control of what is happening; indeed, am I leading the family in the direction in which it is moving?




3. Can I control my children and my wife?




4. Do I truly love my wife (by giving of myself to her), as I should? How am I demonstrating this?




5. Do I assume responsible leadership over my family?




-- Jay E. Adams / Christian Living in the Home, P&R Publishing, 1972, p. 102





Marriage itself is consummated with the literal bodily union of husband and wife. From that point on, the husband should regard the wife as his own flesh. If she hurts, he ought to feel the pain. If she has needs, he should embrace those needs as his own. He should seek to feel what she feels, desire what she desires, and in effect, give her the same care and consideration he gives his own body.




-- John MacArthur / The Fulfilled Family, Copyright: John MacArthur, 2005, p. 68





What higher motive could there be for the husband to love his wife? By loving her as Christ loved the church, he honors Christ in the most direct and graphic way. He becomes the embodiment of Christ's love to his own wife, a living example to the rest of his family, a channel of blessing to his entire household, and a powerful testimony to a watching world.




-- John MacArthur / The Fulfilled Family, Copyright: John MacArthur, 2005, p. 78





A husband is to love his wife. Such love never demands anything; it seeks not to be served, but to serve...The measure of the love required by the husband is to be well noted,

"just as Christ loved the church and gave Himself up for her."

This is a lofty standard. How did Christ show His love for His Church? Think of His gentleness to His friends, His patience with them in all their faultiness, His thoughtfulness, His unwearying kindness. Never did a harsh word fall from His lips upon their ears. Never did He do anything to give them pain. It was not easy for Him at all times to maintain such constancy and such composure and quietness of love toward them; for they were very faulty, and tried Him in a thousand ways. But His affection never wearied nor failed for an instant. Husbands are to love their wives even as Christ also loved the Church, and gave Himself up for it. He loved even to the cost of utmost self sacrifice.




-- J.R. Miller / Secrets Of Happy Home Life.




That's what we learn from God's Word about what He expects from husbands like me. Sadly, I'm ashamed to say it, but I haven't been living up to my high calling like I should've been (or like I thought I was).


Lord, please have mercy on me and forgive me. 'Mrs JRed', please have mercy on me and forgive me. Lord, help me to become the Christian you want me to be for all Your glory!


In all His wisdom and glory husbands are not the only ones given instructions regarding their role in marriage. God has quite a bit to say to Christian wives too as we can derive from the holy Scriptures. Yes, wives have a glorious responsibility too. That's why I hope some Christian wives have made it this far with today's message.

It needs to be a subject for another day, but here's a glimpse at that Biblical truth...



Headship is not a ticket to privilege but a charge to responsibility. It is not tyranny, but leadership based on love.


-- Erroll Hulse




Quoted In: BP News, By Jeff Robinson, Puritan beliefs about family life can prove helpful today, he says, Jul 29, 2002.





Fifty-fifty marriages are an impossibility. They do not work. They cannot work. In marriage someone has to be the final decision maker. Someone has to delegate responsibility, and God has ordained that this should be the husband.




-- Wayne Mack / Strengthening Your Marriage, 1999, P&R, p. 37





There's no gridlock with God…no stalemate…no tie game. If a husband and wife have talked things out, but cannot come to agreement on a matter, the Bible teaches that the husband's authority prevails. By divine design God has entrusted to the husband leadership and authority with which to wisely and lovingly rule the household. The husband is not guaranteed the smartest decisions--but God does expect him to exercise leadership in the home and to have the power to veto (break up an impasse with his vote).

However, this does not give him the right to be arrogant and to flaunt his authority, or to run roughshod over other family members' feelings. He has no right to refuse to listen to his wife, to withdraw from confrontational discussions, to act in anger, or to act in a non-understanding way (1 Peter 3:7). He has no right to exasperate his children or anyone else in the family. He must love his wife even as Christ loves the church and gave Himself up for it.

Because of the Biblical doctrine of 'male headship,' I place (and I believe God places) the brunt of the responsibility for family growth, happiness, and harmony, upon the husband. Since he is the one entrusted with leadership, he is the one chiefly responsible for leading the family towards the goal of Christlikeness.




-- Peter Wise

Now we arrived back where we started.

You cannot achieve the family goal of 'Christlikeness' if you cannot learn to exhibit 'Christlikeness' yourself.

Be a man. Admit your faults; confess your sins. Demonstrate to your wife and children a contrite heart, a humble attitude, and a desire for obedience through repentance and restoration because you love the Lord and Savior Jesus Christ and His Word that much.

Do that on a consistent basis --
no matter what
-- and I guarantee you and your family will be spiritually blessed beyond all comprehension.

In closing, would like to share a couple of final thoughts on Ephesians 5:25 that will put an exclamation point on things for us.


Matthew Henry On Ephesians 5:22-33

The duty of wives is, submission to their husbands in the Lord, which includes honouring and obeying them, from a principle of love to them. The duty of husbands is to love their wives. The love of Christ to the church is an example, which is sincere, pure, and constant, notwithstanding her failures. Christ gave himself for the church, that he might sanctify it in this world, and glorify it in the next, that he might bestow on all his members a principle of holiness, and deliver them from the guilt, the pollution, and the dominion of sin, by those influences of the Holy Spirit, of which baptismal water was the outward sign. The church and believers will not be without spot or wrinkle till they come to glory. But those only who are sanctified now, shall be glorified hereafter. The words of Adam, mentioned by the apostle, are spoken literally of marriage; but they have also a hidden sense in them, relating to the union between Christ and his church. It was a kind of type, as having resemblance.

There will be failures and defects on both sides, in the present state of human nature, yet this does not alter the relation. All the duties of marriage are included in unity and love. And while we adore and rejoice in the condescending love of Christ, let husbands and wives learn hence their duties to each other.

Thus the worst evils would be prevented, and many painful effects would be avoided.





Early Church Father John Chrysostom:

Thou hast seen the measure of obedience; now hear also the measure of love. Do you wish your wife to obey you, as the Church is to obey Christ? Then have a solicitude for her as Christ had for the Church (Eph 5:23,

"Himself the Saviour of the body"

); and if it be necessary to give thy life for her, or to be cut in ten thousand pieces, or to endure any other suffering whatever, do not refuse it; and if you suffer thus, not even so do you do what Christ has done; for you indeed do so being already united to her, but He did so for one that treated Him with aversion and hatred.

As, therefore, He brought to His feet one that so treated Him, and that even wantonly spurned Him, by much tenderness of regard, not by threats, insults, and terror: so also do you act towards your wife, and though you see her disdainful and wantonly wayward, you will be able to bring her to your feet by much thoughtfulness for her, by love, by kindness.

For no bound is more sovereign in binding than such bonds, especially in the case of husband and wife. For one may constrain a servant by fear, though not even he is so to be bound to you; for he may readily run away. But the companion of your life, the mother of your children, the basis of all your joy,

you ought to bind to you, not by fear and threats

, but by love and attachment.

If you want to be a Christian husband, you become a
servant
, not a
boss
.

It won't be easy. Most things of true and lasting value ever are. Even so, we know that God's best for our lives is always better than what we imagine the 'best' being. You just need to make up your mind that His ways are what you want to pursue in this life -- not to make your marriage any easier, not to get your wife to treat you any better, but because you love the Lord and want to please Him by obeying His instructions for you as a Christian husband.

God's goal for every Christian is Christlikeness (Romans 8:29). He will use everything in our life to see us reach that goal (Romans 8:28). Our job is never to lose sight of God's calling.


Please forgive me Lord (and please forgive me Lindsay) if I have ever gone to any un-Biblical extremes even if it was only due to my sincere love and passion for Jesus Christ, His Word, and the ministry of being a husband and a father that He has blessed me with. Actually, recent history tells me that I know that I have gone to at least some of those extremes. Like I said earlier, there is a 'right way' and there is a 'wrong way' to share that passion. May you both forgive me for my wrongs; my sins.


Friend, do you understand what it means for husbands to love their wives like Christ loved the church? I sincerely hope so.

It goes far beyond feelings. True love is not a feeling. Feelings change. True love is an action. We know that, don't we? After all, it was one act of supreme love (John 3:16) that set the example for us.

If all else fails, then just rely on the truth of these verses that I'm sure we all know too well because they were most likely a part of our wedding vows...


1 Corinthians 13:4-8 (ESV)

Love is patient and kind; love does not envy or boast; it is not arrogant or rude. It does not insist on its own way; it is not irritable or resentful; it does not rejoice at wrongdoing, but rejoices with the truth. Love bears all things, believes all things, hopes all things, endures all things. Love never ends.

That's true, Biblical, Christian, Christlike love. Live it!

Grace and peace unto you and yours.


Share
|