We know that Scripture nourishes human understanding. The Holy Bible uses an organic metaphor to describe God's intention. It likens God's Word to water that nourishes a seed enabling it to sprout and grow (John 4:10-14; John 7:38; Revelation 7:17).



This is a 'living metaphor' for the Living Word.

It also compares the process of growth in nature with the process of growing in faith and understanding (Psalm 19:7-11; Matthew 4:4; John 6:47-51; 1 Corinthians 10:3; 1 Peter 2:1-3). It shows us that a mature faith is not static. It grows!


2 Timothy 3:16 (KJV)

All scripture is given by inspiration of God, and is profitable for doctrine, for reproof, for correction, for instruction in righteousness:

Because of these truths we are to hunger and thirst after righteousness (Matthew 5:6). Virtue ('goodness') is the desire for what is right (2 Peter 1:5). When we desire righteousness (virtue or 'goodness'), then we seek and find the 'right' way (Matthew 7:13-14).

As a
"new creation"
in Christ (2 Corinthians 5:17; Galatians 6:15), we can only be filled on righteousness. Nothing else satisfies. Please join me in feeding on His Word so that we can satisfy our souls.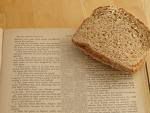 Today's daily bread comes to us from

Psalm 5:8

.


Psalm 5:8 (KJV)

Lead me, O LORD, in thy righteousness because of mine enemies; make thy way straight before my face.





Psalm 5:8 (ESV)

Lead me, O LORD, in your righteousness because of my enemies; make your way straight before me.
I want to encourage you to look beyond the surface level meaning of this single verse and to dig a little deeper. What's at the core of this truth?
On the surface, we could conclude that we're told that God's guidance is needed

always

and especially when our enemies are watching us. That's certainly true. However, there's so much more here that I believe is much more relevant to the times we're living in since apostasy seems to rule the day.
The reminder to us in this verse is clear, but perhaps too clear that we overlook it, or don't give it the proper respect it deserves even though it's at the core of our faith:

We are to merely deliver the message of the Gospel as an ambassador would (2 Corinthians 5:20), but we are not responsible for how a person responds to it, let alone for changing a person's heart because it's not within our power to do so (John 6:44).
Yes, disciples are to walk in God's way(s), being obedient to His direction(s) for their lives, but they are fully dependent upon His grace for responsible progress (Psalm 119:1-5; Psalm 119:26; Psalm 119:27; Psalm 119:30; Psalm 119:32; Psalm 119:33).
Additionally, Charles Spurgeon had this to say about verse 8...
Now we come to the second part, in which the Psalmist repeats his arguments, and goes over the same ground again.

Lead me, O Lord, as a little child is led by its father, as a blind man is guided by his friend. It is safe and pleasant walking when God leads the way.

In thy righteousness, not in my righteousness, for that is imperfect, but in thine, for thou art righteousness itself.

Make thy way, not my way, straight before my face. Brethren, when we have learned to give up our own way, and long to walk in God's way, it is a happy sign of grace; and it is no small mercy to see the way of God with clear vision straight before our face. Errors about duty may lead us into a sea of sins, before we know where we are.
May we never stop preaching the Gospel, but may we never forget our role in another person's salvation (1 Corinthians 3:7-8).
Grace and peace unto you and yours!
Share
|