It's one of those days where your fellow brother in Christ just needs to share what's on his heart.
It's not that any of the things I'll be venting of today are surprising --

they're not.

It's just that sometimes you need the comfort and prayers from other believers who can relate and who understand how you're feeling.
My dear friends, there's an epidemic within contemporary Christianity these days that is a clear sign of the times.
It has to do with the fact that far too many of us are
Biblically illiterate
.
Why? Well, the common answer that's usually given is that it's because we no longer read and study the Word of God for ourselves like we're supposed to (2 Timothy 2:15). That's certainly true, but only to an extent.
The real reason, however, is because a majority of people who think they are believers in Christ are actually 'Christians-In-Name-Only', or apostates, or false converts, which the Bible spends a lot of time warning us about.
2 Timothy 3:1-5 (ESV)

But understand this, that in the last days there will come times of difficulty. For people will be lovers of self, lovers of money, proud, arrogant, abusive, disobedient to their parents, ungrateful, unholy, heartless, unappeasable, slanderous, without self-control, brutal, not loving good, treacherous, reckless, swollen with conceit, lovers of pleasure rather than lovers of God, having the appearance of godliness, but denying its power. Avoid such people.
It's heartbreaking to know dear family members and friends who fit that description, but God's Word promises that we will undoubtedly find them in our lives. In fact, we need to examine ourselves regularly (2 Corinthians 13:5) because we might be one of them.
The thing is, I feel burdened to be a voice crying out about these solemn facts. I hope you do too. We should feel a desire to proclaim the Good News to a dying world while there is still time.
No, it's not about thinking we're 'better' than anyone else either (1 John 1:8-10). Besides, it's strange how people think Christians are 'perfect', or that we think we're 'better' than everyone else. I always laugh at that.
Being a Christian means we recognize through the power of the Holy Spirit (and can admit to ourselves and to the world) that we're hopelessly messed up!
It says that we know we need Someone outside of ourselves to save us, and that in the process He'll also 'fix' us too through sanctification, until we become more and more like Him with each passing day.
That's why I feel the need to share what's on my heart today. I want to spend some time revisiting the doctrine of regeneration and it's key role in salvation as well as a genuine Christian lifestyle.
I think A.W. Pink was right when he said that regeneration is a dividing line between Heaven and Hell.

More on what is meant by that a little later.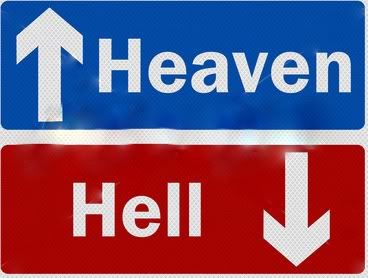 For me, it just always breaks my heart to see others who parade themselves around as 'Christians', but who are constantly living a lifestyle of sin. I know we are to expect this, but it doesn't make it any easier to witness, especially when it involves people you care about so deeply.
I also know that the real offense isn't against little old me, but that it's an offense to God, but I also cringe at the thought of the non-believers who are watching their lives closely and also seeing the disconnect between

saying

and

doing

.
Why is it that no one feels badly about sin anymore? Well, because sin has been redefined.

Even Christians have been neutered to the point where they have changed the way they respond to sin within the church these days!
Again, that doesn't surprise me, but it does sadden me.
"Our culture has declared war on guilt. The very concept is considered medieval, obsolete, unproductive. People who trouble themselves with feelings of personal guilt are usually referred to therapists, whose task it is to boost their self-image. No one, after all, is supposed to feel guilty. Guilt is not conducive to dignity and self-esteem. Society encourages sin, but it will not tolerate the guilt sin produces. But the answer to dealing with guilt is not to ignore it – that's the most dangerous thing you can do. Instead, you need to understand that God graciously implanted a powerful ally within you to aid you in the battle against sin. He gave you your conscience, and that gift is the key to bringing you joy and freedom."





-- John MacArthur
And yet, people have gotten so good at ignoring their conscience these days.
I suppose that, at this point, some people reading this will invariably reference the

"do not judge"

verses of Scripture.
Friends, if that's you, then you are taking those verses completely out of context. We've done extensive studies on that subject in the past for I Want To Believe Radio and Kingdom Bound Radio that use the Bible to prove otherwise. Please make a note to check them out in the Archives if you would like to go deeper on that subject.
Ok, so what can we say about

'judgment'

, and it's connection to

'anger'

then, and it's role in response to the actions, behaviors, and words of other so-called 'Christians' who are doing and saying anything that even resembles true Christianity?
I think we have to be sure to differentiate between

'anger'

and

'righteous anger'

to make our point clear.
"If your anger is due to your recognition that a holy God has been offended by another's behavior, that anger is righteous. In other words, if we are angry because God's revealed will (not His decreed will; for everything that happens has been foreordained by Him) is violated, our anger is righteous. On the other hand, if your anger is the result of not having your personal desires met, that anger is likely to be sinful."





-- Lou Priolo
Christians cannot --

must not

-- act like sin is 'no big deal', or hide from pointing it out in another person's life by hiding behind the whole 'we're all sinners' defense that's far too common these days.

Remember Galatians 1:10.
You know, I read something the other day from Reformation Theology that I think is worth mentioning right now. It might make this entry a lot longer than I originally planned it to be, but it might also help explain all of this (and our proper response to it) from a truly Biblical perspective.
"Dead Men Cannot Hate"





Here is a failed attempt to demonstrate that the Reformed view of (unregenerate) man being dead is illogical.





Visitor:

A dead man can not walk to an emergency room but neither does a dead man hate.





Response:

I believe you may have missed the point. The Bible teaches that those who are dead to spiritual things are quite alive to sin and the flesh. The Bible teaches there are two kinds of people in the world 1) spiritual and 2) natural. The natural person cannot understand spiritual truth and by nature thinks it is folly and is therefore hostile to it (1 Cor 2:14, Rom 8:7). He is completely dead to it - beyond his native moral capacity. The apostle says a person needs the mind of Christ to understand spiritual things (1 Cor 2:12). Otherwise they just continue on in their love of darkness (John 3:19, 20) So the dead in sin (the spiritually dead) are those in the state or condition without the Holy Spirit. This is a fact which is quite prevalent in the Bible... that is, unless you want to claim (against Scripture) that a person can come to faith in Jesus Christ apart from the work of the Holy Spirit.





In another place Jesus even says of them, "You belong to your father, the devil, and you want to carry out your father's desires. He was a murderer from the beginning, not holding to the truth, for there is no truth in him. When he lies,

he speaks his native language

, for he is a liar and the father of lies." - John 8:44





Essentially Jesus is here saying to them, "Like father, like son. Like the devil they have no truth in them and lie because that is what they do by nature."





Next Jesus says to them, "Yet because I tell the truth, you do not believe me! Can any of you prove me guilty of sin? If I am telling the truth, why don't you believe me?

Whoever belongs to God hears what God says. The reason you do not hear is that you do not belong to God.

" John 8: 46-47





In other words, the reason they do not hear the truth and do not hear God is that they are spawn of the devil. They are not God's children so It is not in their nature to hear spiritual truth. Their ear only hears the things which oppose God. i.e. they are Dead to spiritual things but alive to sin.





But Jesus shows the only way some escape from slavery....In the same passage Jesus said to them,





"Very truly I tell you, everyone who sins is a slave to sin. Now a slave has no permanent place in the family, but a son belongs to it forever.

So if the Son sets you free, you will be free indeed.

I know that you are Abraham's descendants. Yet you are looking for a way to kill me, because you have no room for my word. I am telling you what I have seen in the Father's presence, and you are doing what you have heard from your father. - John 8:34-38




Man is naturally a slave to sin. He commits sin and cannot do otherwise. Only a work of grace, apart from their assistance or cooperation, can set them free from slavery and adopt them into God's family. Those born of God are children of God.
To clarify,
CARM
defines regeneration as follows...
The act of God whereby he renews the spiritual condition of a sinner. It is a spiritual change brought about by the work of the Holy Spirit so that the person then possesses new life, eternal life. Regeneration is a change in our moral and spiritual nature where justification is a change in our relationship with God. Also, sanctification is the work of God in us to make us more like Jesus. Regeneration is the beginning of that change. It means to be born again.
Defending Contending clarifies things even further for us...
Since the fall of mankind, the human race stands in need of salvation (or deliverance): deliverance from the guilt of sin, and also deliverance from the power of sin. From the biblical doctrine of justification, we learn the divine provision whereby sinners are delivered from the punishment due to the guilt of their sins. From the doctrine of sanctification, we learn the means whereby God delivers sinners from the reigning power of sin.

Of course, there are other facets of redemption, such as election, effectual calling, glorification, etc. Obviously the subjects of redemption are interrelated to one another; but they are not identical, and should not be confounded. Even though the various aspects of salvation bear a close relationship to one another, the scriptures clearly distinguish between them. In several places within Paul's epistles, the apostle maintains a clear distinction between justification and sanctification. For example: "But ye are washed, but ye are sanctified, but ye are justified in the name of the Lord Jesus, and by the Spirit of our God" (1 Cor. 6:11; cf. Rom. 8:30; 1 Cor. 1:30). [1]

Another closely related topic is the nature of regeneration, or the new birth. Those whom God regenerates are given repentance, faith, and inward renewal so that they strive for godliness.
But let's go back to that opening excerpt I referenced from Reformation Theology.
See, even those of us who have been part of the
New Reformed Movement
/
New Reformed Church
like me have explained it wrong.
It's concerning because when God first saved me, I was caught up in the common belief that I had a part in it, that I accepted Jesus, that I invited Him into my heart. I, I, I...
However, as I continued to grow in knowledge and maturity and closely study God's Word, I clearly see how wrong I was, as well as the dangers of such thinking.

For awhile, upon that realization thanks to none other than the Holy Spirit, my prayer was that God would open the eyes of all who give credit for their salvation to 'self' instead of Jesus Christ.
So, the concerning part for me is when I think about how I thought I was beyond that initial error and that I fully grasped the Biblical truth about regeneration, salvation, and sanctification, but now I've just realized that I was close, but not entirely accurate in my understanding and resulting presentation of this doctrine due to my flawed 'dead man' explanations.
So, what began as a moment to vent about the shortcomings of others, has quickly turned into an opportunity to boast about my own weaknesses (2 Corinthians 11:30).

Praise the Lord!
We (myself included) need to get a solid grasp on the Bible and stand up and teach its hard truths in a way that helps make the truth clear to people who are struggling to get it.
Romans 10:17 (ESV)

So faith comes from hearing, and hearing through the word of Christ.
We need to contend earnestly for the faith when others might want you to concede by saying,

"Well, that's just your interpretation, or your opinion, and you have no authority on the matter..."

Really? Excuse me, but we have the authority from the Word of God itself!
2 Timothy 3:16 (ESV)

All Scripture is breathed out by God and profitable for teaching, for reproof, for correction, and for training in righteousness,
We need to be steadfast and sure, with a solid grasp of classic Biblical truths that have gone out of style in this day and age.
We need to stand against popular opinion when we know we should, and do it every time the opportunity arises.
But we need to do all of that Biblically as well. We need to do all of that with the same grace and mercy that the Lord and Savior Jesus Christ extended to us.
1 John 4:19 (ESV)

We love because he first loved us.
When we do find ourselves getting angry we need to make sure it's a 'righteous anger' only, and that we express it Biblically too.
"If your anger is due to your recognition that a holy God has been offended by another's behavior, that anger is righteous. In other words, if we are angry because God's revealed will (not His decreed will; for everything that happens has been foreordained by Him) is violated, our anger is righteous. On the other hand, if your anger is the result of not having your personal desires met, that anger is likely to be sinful."





-- Lou Priolo
I know we looked at that one quote earlier, but that's such great advice and worth another look.
One final comment on true repentance.
"Confession by itself is not repentance. Confession moves the lips; repentance moves the heart. Naming an act as evil before God is not the same as leaving it. Though your confession may be honest and emotional, it is not enough unless it expresses a true change of heart."





-- Jim Elliff
That's what we're after in the Christian life. A genuine Christian faith that is evidenced by a changed life and not just words we utter.

If we see another brother or sister in Christ (particularly one who proclaims that they are a Christian) struggling with sin (ignoring it really), then we need to lovingly approach them about it, but do so in the Biblically prescribed manner.
We've been talking about regeneration and repentance. You know the best part about true repentance? It enables you to receive true grace, mercy, and forgiveness!
"Here's how to beat condemnation. Confess your sin to God. Then believe in Him. Exercise the gift of faith that God has given you to believe that Jesus died for the very sins you're being condemned for. The punishment He received was for you. His resurrection is proof that God accepted Jesus' sacrifice. The sins of your past and the sin you just committed were all atoned for; you need carry their weight no more."





-- C.J. Mahaney
Who wouldn't want that?
Matthew 11:28 (ESV)

Come to me, all who labor and are heavy laden, and I will give you rest.
The Gospel of Jesus Christ brings the glad tidings that although our righteousness is as filthy rags in God's sight (Isaiah 64:6), God clothes us in Christ's perfect righteousness!
The final word on regeneration?
"Regeneration is an intensely solemn thing. The new birth is the dividing line between Heaven and Hell. In God's sight there are but two classes of people on this earth: those who are dead in sins, and those who are walking in newness of life. In the physical realm there is no such thing as being between life and death. A man is either dead or alive. The vital spark may be very dim, but while it exists, life is present. Let that spark go out altogether, and. though you may dress the body in beautiful clothes, nevertheless, it is nothing more than a corpse. So it is in the spiritual realm. We are either saints or sinners, spiritually alive or spiritually dead. Children of God or children of the Devil. In view of this solemn fact, how momentous is the question, 'Have I been born again?' If not, and you die in your present state, you will wish you had never been born at all."





-- Arthur W. Pink
So true indeed.
Lastly, and probably most importantly, we need to always remember these truths about regeneration as they apply to each and every one of us, and not just as they apply to others who we might come into contact with.
Remember, we are to be

"ambassadors"

(2 Corinthians 5:20), and ambassadors are all about delivering a message on behalf of another.
It's not our purpose, nor is it within our power, to change someone else. Only God can do that (John 6:44). Do what you're supposed to, and do what you can, but don't let Satan convince you that you're supposed to 'do it all', or that you're a 'failure', or a 'poor Christian' if you cannot convert your family and friends for Christ Jesus.
There's one caveat to all of this too.
Yes, we are to preach the Gospel to anyone and everyone (Mark 16:15), but our reflex should be to take a message like this one (or a sermon we hear in church) and think about how it applies to us, and not only about how it might apply to others we know (i..e

"If only so-and-so were here to hear this today! Boy, that might straighten them out some!"

) because that's the wrong heart attitude.
Thanks for letting me share what was on my heart today.
I hope it was coherent.
Grace and peace unto you and yours.
Share
|